P. T. Barnum wrote the Golden Rules for Making Money in 1880. He provides a few paragraphs on each of the 20 golden rules:
1. Don't mistake your vocation
2. Select the right location
3. Avoid debt
Money is in some respects like fire; it is a very excellent servant but a terrible master. When you have it mastering you; when interest is constantly piling up against you, it will keep you down in the worst kind of slavery. But let money work for you, and you have the most devoted servant in the world. It is no "eye-servant." There is nothing animate or inanimate that will work so faithfully as money when placed at interest, well secured. It works night and day, and in wet or dry weather.
4. Persevere
5. Whatever you do, do it with all your might
6. Depend upon your own personal exertions
7. Use the best tools
8. Don't get above your business
9. Learn something useful
10. Let hope predominate but be not too visionary
11. Do not scatter your powers
12. Be systematic
13. Read the newspapers
14. Beware of "outside operations"
15. Don't indorse without security
16. Advertise your business
17. Be polite and kind to your customers
18. Be charitable
19. Don't blab
20. Preserve your integrity
From the introduction,
Those who really desire to attain an independence, have only to set their minds upon it, and adopt the proper means, as they do in regard to any other object which they wish to accomplish, and the thing is easily done. But however easy it may be found to make money, I have no doubt many of my hearers will agree it is the most difficult thing in the world to keep it. The road to wealth is, as Dr. Franklin truly says, "as plain as the road to the mill." It consists simply in expending less than we earn; that seems to be a very simple problem.
The thoughts are worth reading today. You can update things a bit, from read the newspapers, to read the websites, but mainly it is sensible advice today.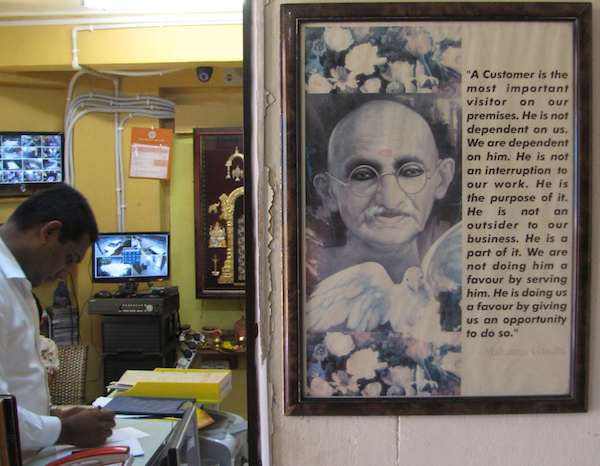 Quote in the image by Mahatma Gandhi (see my previous post: The Customer is the Purpose of Our Work):
A customer is the most important visitor on our premises. He is not dependent on us. We are dependent on him. He is not an interruption in our work. He is the purpose of it. He is not an outsider in our business. He is part of it. We are not doing him a favor by serving him. He is doing us a favor by giving us an opportunity to do so.
As P. T. Barnum says about customers
Politeness and civility are the best capital ever invested in business. Large stores, gilt signs, flaming advertisements, will all prove unavailing if you or your employees treat your patrons abruptly.
…
Men who drive sharp bargains with their customers, acting as if they never expected to see them again, will not be mistaken. They will never see them again as customers. People don't like to pay and get kicked also.
I don't think many large companies in the USA have executives that practice this simple idea. They seek monopolies so customers can't hold their bad service against them. Sadly in the USA we have allowed such anti-capitalist practices to grow. We would be better off if we didn't allow businesses to undermine capitalism and allow businesses to undermine markets and customers.
For most small businesses (that are subject to the market – that don't have a monopoly on a very small, specific, market) P. T. Barnum's advice holds.
Related: Motivation and Delivering Solutions When You Work for Yourself – Nomadic Businesses in the Internet Age – Reverse Budgeting: Money that Must be Spent – Delighting Customers